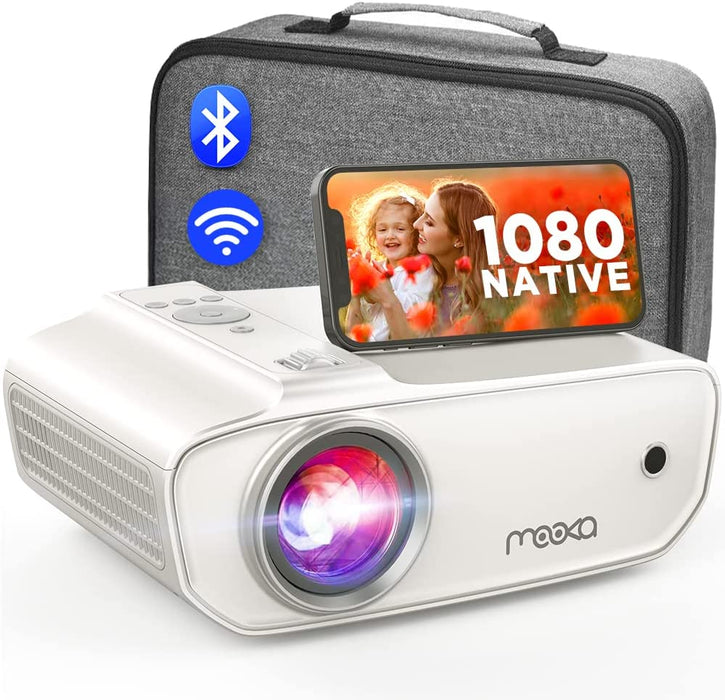 Native BL69 8500L 1080P WiFi Bluetooth Projector | Video Projector | MOOKA
Buy With Confidence
* Free shipping for $39+ order in US.
* Local warehouse delivery.
* 30 Days Free Returns and Exchanges.
* 1-3 year warranty.
* 7*24 customer service.
10% OFF FRIST ORDER | CODE: WELCOME10
Save

11

%
Save

11

%
Original price
$189.99
-
Original price
$189.99


MOOKA BL69 Native 1080P WiFi Bluetooth Projector, 8500 Lumen, 300'' Large Screen & Digital Zoom & Sleep Timer, Carrying Case Included, Excellent Budget Home Theater Projector!
This home Native 1080P Projector with a True 1920 x 1080 Resolution, a 10,000:1 dynamic contrast ratio, 8500 Lumens brightness, and 16.78 Million colors also help enhance color accuracy in dark images, resulting in picture quality that is natural, and closer to real life. Also, it brings the thrill of watching 300-inch big screen visuals to your living room, gives your home theater native 1080P lifelike image clarity that even many 720P theater projectors can't match, and works fantastic for projecting Halloween holograms onto the mesh. And its slick, modern case design, sharp, rich color, and sharp image even make you swoon!
Native 1080P Resolution
MOOKA BL69 Native 1080P Projector with a True 1920 x 1080 Resolution, produces 4 times more details and clarities than another mini projector which claims they can "support 1080p " but is native 720P.
10000:1 Contrast Ratio
MOOKA BL69 HD Projector with a 10,000:1 dynamic contrast ratio and 16.78 Million colors will display a full range of color without getting too grainy or washed out, creating saturated for beautiful and colorful images that come to life.
8500 Lumens
If you plan on adorning a dark home theater, MOOKA BL69 Movie Projector will get you by if you want to have a nice movie night. It is bright enough to project a clear image at dusk onto a white bed sheet or a projector screen.
NOTE:
1. In the User mode allow you to adjust the Contrast, Brightness, Color, and Tint manually via a remote.
2. Don't expect to use this projector in broad daylight outdoors due to the picture fading away, but once the sun goes down it works perfectly.
3. It's not commended to use in a large conference, teaching activity, or commercial usage.
4. Keep off light from the screen by covering windows or blocking direct sunlight.
MOOKA BL69 home theater projector is equipped with 1*HDMI port, 2*USB ports, 1*AV port, 1*VGA port, and 1* 3.5mm Audio port.
The HDMI port: Compatibles with modern computers, TV boxes, Xbox, Chromecast, Roku, PS4, Firesticks, smartphones, and Blu-ray players.

Two USB ports: Connect with USB sticks

(32 GB limit)

 

to play all types of media (Videos, MP3, Photos, etc.) or provide power for compatible HDMI streaming media players.

The AV port: For legacy equipment.

The VGA port: For some older computers.

The

 

3.5mm Audio output

 

can easily connect to powered speakers, soundbars, and amplifiers.
NOTE:
1. The projector doesn¡¯t have an Android TV app that gives you access to those streaming services. You can either mirror cast from your mobile device or plug in a firestick, Roku, and Chromecast, or possibly an HDMI adapter.
2. While you can mirror some videos from your tablet or phone (Youtube, Prime Video, Apple TV), you can¡¯t mirror Netflix or Hulu. For those, you¡¯ll need to use a firestick, Roku, and Chromecast, or possibly an HDMI adapter,
3. When you using an Amazon Firestick, If the Dolby icon is on your screen, please check the Audio Setting on your Amazon Fire TV and try turning off Dolby Digital Plus: On your Amazon Fire TV or Fire TV Stick, go to Settings > Display & Sounds > Audio > Dolby Digital Output > and then turn Dolby Digital Plus OFF. OR choose the PCM (Setup-Audio output-PCM).
How to Screen Mirror Your iPhone to this Projector?
1. Connect the projector to a Local WiFi Network on the "System Setup" from the projector's main menu
2. Select ¡°iOS Screen¡± from the projector main menu
3. Connect the projector to your iPhone to the? Same Local WiFi Network
4. Turn on Screen Mirroring on your iPhone, select the projector device ¡°MOOKA-FAE208-ITV" for pairing
How to Screen Mirror Your Android Phone to this Projector?
1. Select ¡° Android Screen¡° from the projector main menu
2. Turn on the WLAN (WiFi) and the mobile data traffic on your phone
3. Turn on Cast Function in the phone¡¯s status bar or setting page, select the projector device ¡°MOOKA-FAE208-ITV" for pairing
NOTE:
1. Due to HDCP copyright, copyrighted content from Hulu, Netflix, Amazon Prime, and similar services CAN NOT be mirrored or screencast. But you could plug an Amazon fire stick, Roku stick, or similar device to connect through an HDMI port into the projector to cast Netflix, Amazon Prime, Hulu, or Disney +. Or using an extra cable to wired connections.?iOS devices - a Lightning to HDMI Adapter; Android devices - a Micro USB/Type C to HDMI Adapter
2. MOOKA BL69 projector for phone can only support Mira-cast WiFi screen mirroring protocol. If you are using some phone(Google/MOTO/Sony/Samsung ) that supports other protocols(Like Chrome-cast WiFi screen mirroring, It will occur no picture only audio works situation. You may need to use a wired connection or use another phone that with Mira-cast protocol.
3. Make sure connected to good internet, which the WiFi network should be greater than 50M. And prevent the WiFi stream gets overloaded with too many devices connected to it. The closer the projector is to the home router, the more stable the WiFi network connection will be.
Sleep Timer Shutdown
Remember when you used to fall asleep while watching a movie on the projector in the bedroom? If so, you probably used the Sleep Timer Shutdown feature on your MOOKA BL69 video projector to automatically shut it off after 2 hours (up to 4 hours) to prevent it from playing all through the night.
Eyes Protection
Compared with electronic screen, the MOOKA BL69 projector's projection screens has no radiation to reduce blue light, this projection method is more suitable for human eyes' visual habits and makes your and your kids' eyes easy.
Projector Carry Case Included
MOOKA BL69 mini portable projector comes with a compact carrying case to safely carry the projector around and all the accessories including an IR remote(?2 AAA batteries not included), an HDMI cable, an AV cable, and a power cable, and a lens cover.
Dust Removal Cover Design
To get rid of the trouble that dark spots appear on the screen image, the MOOKA BL69 smart projector has designed a dust removal cover on the side of the fuselage, easy to clean the interior dust regularly to extend the life of your video projector.
Up to Max 300" View
Forget tiny 50-inch TVs, Go big with a MOOKA projector 300" picture for that true cinema scale (The ideal size is 120"). For the best viewing experience, the distance between the projector and the screen should be between 4.3ft to 16.7 ft (The ideal distance is 9.8ft ). 
Focus / Vertical Keystone Correction
Focusing on a projector can be accomplished by twisting its focus ring until the projected image comes into focus and appears sharp. Slide the keystone key to the left and right for the vertical correction of 15 to ensure the projected image is always a standard rectangle.
Digital 75% to 100% Zoom
Scrolling through the menus, going to the PICTURE setting, finding the Digital Zoom (Reduce Display), now adjust screen size from 75% to 100% easily without needing to "zoom with your feet" to match the projector screen size.
Hassle-free Installation/Adjust Tilt
MOOKA BL69 mini projector has a height adjustment bolt to minute adjust the tilt angle of the projection. There is also a standard 1/4-20"mounting hole on the bottom to work with a full-sized camera tripod and ceiling bracket. Take off the four rubber pads on the bottom of this projector can also mount them onto the standard 4 brackets.
MOOKA BL69 video projector as an entry-level movie projector, It¡¯s perfect for parties or family movie nights by fully elevating the enjoyment.
Built-in Hi-FI Stereo cavity speakers are available in 

5 Sound Modes (Movie/Music/Sports/User/Standard)

, hear every moment loud and clear.
This movie projector also sports a 

3.5mm stereo output

, pairs this with a supported soundbar or extra speakers, and you'll have theatrical surround sound fueled by unparalleled immersion.
The User mode allows you to adjust the Treble and Bass manually via a remote.

PS: For the USB port

The maximum capacity supported by the U disk/mobile hard disk is 192GB, and the maximum size of a single file does not exceed 4GB;

The maximum capacity supported by an NTFS-formatted U disk/mobile hard disk can be up to 2TB, and a single file cannot exceed 2TB;

SD2.0/SDHC card supports up to 32GB;

SDXC supports up to 1TB.