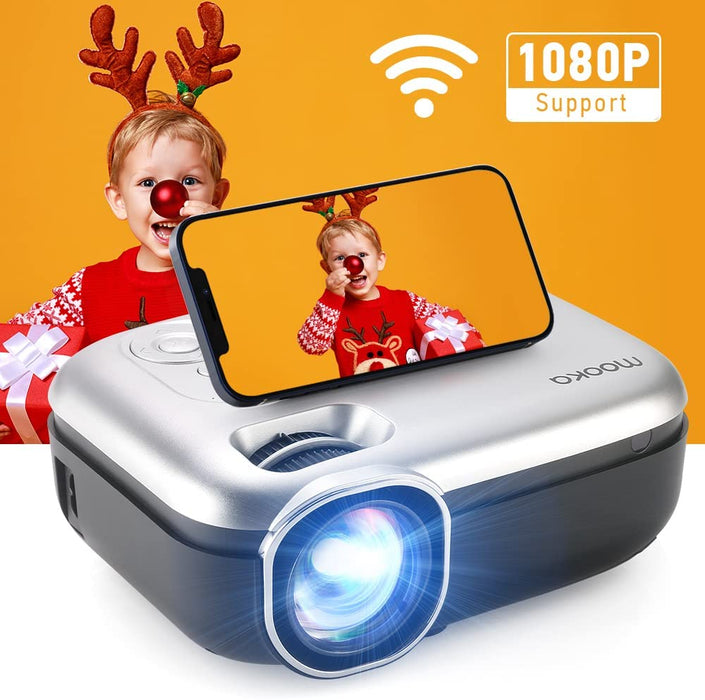 MOOKA RD 823 WiFi Projector, 1080P Full HD Supported 200" Video Projector
Buy With Confidence
* Free shipping for $39+ order in US.
* Local warehouse delivery.
* 30 Days Free Returns and Exchanges.
* 1-3 year warranty.
* 7*24 customer service.
10% OFF FRIST ORDER | CODE: WELCOME10
Limited Time Annual Promotion
Save

53

%
Save

53

%
Original price
$169.99
-
Original price
$169.99


Why Choosing Mooka Projector?
Best choice for home theater
Mooka rd 823 wifi projector adopts an advanced German LCD light source, high-quality materials, and a delicate manufacturing process. With 1080P supported image projection, 7500L brightness, and 5000:1 contrast ratio, it delivers a brighter 200" large-screen with fantastic image clarity, outstanding color accuracy, and incredibly sharp image detail to both homes and businesses.
+30% Improved Brightness
Mooka mini projector has a +30% brightness improvement, thanks to the 2021 updated technology. The color and brightness have also been improved, allowing you to have a more enjoyable viewing experience with your new movie projector.
Portable projector with carrying bag
The dimensions of the MOOKA home projector are 8.6 x 6.8 x 3.8 in. Carry it with you wherever you go and store it secured from dust, carrying bag is included for your convenience.
Mooka with MEMC and 95% NTSC
MEMC

 

- a kind of motion picture quality compensation technology used in LCD TVs or projectors and other display devices.

 

Mooka helps you done for this!

 

The effect is to remove the residual image of the previous frame, improve the dynamic clarity, and reduce the image trailing to a level that is difficult for the human eye to perceive.

NTSC

 

- It refers to the number of colors that a mode image can have.

 

Mooka even reaches an amazing 95%!

 

At present, the color gamut of devices on the market is generally around 45%-72%, and the high color gamut is recognized as 90%, but Mooka has reached an astonishing 95%. With rich colors, the vividness of the picture has been significantly improved, making the excessive color in the picture more natural, effectively avoiding distortion and color blocks. The level is clear, can show more details, closer to the real effect.
How to play Netflix / Disney + / Amazon prime Video movies?
Due to copyright issues Netflix / Disney / Amazon prohibits playing movies from the projector, You can use a TV Stick or Roku Stick to connect the projector to watch the connect from Netflix, Hulu, and similar services(TV stick and Roku stick require additional purchase).
Warm Tips:
Due to HDCP copyright, Netflix, Amazon Prime, and Hulu streaming are not supported. But you could use these video hostings via HDMI connection such as Amazon Fire TV Stick, laptop, or PC to play.

Due to the Netflix copyright protection issue, the sound of some Netflix videos may not play properly, please turn off the Dolby Sound to fix it.

Due to HDCP copyright being different, Google and Samsung phones do not support WiFi screen mirroring, and Google and Samsung phones can only support Chrome-cast WiFi screen mirroring.

Our projector can only support Miracast protocol. If you are using some phone with other protocol (Like Google/MOTO/Sony) will occur no picture only audio works situation. You may need to use a wired connection or use another phone with Miracast protocol.

Our MOOKA projectors don't support business presentations (PPT, Word, Excel). Not commended to use it in a large conference, teaching activity, or commercial usage.
Wireless Connection Guide:
Wireless Screen Mirroring - iOS:
1. Connect the projector to home Wi-Fi.
2. Go to "Settings" then "Screen Mirroring" and find "iOS Screen".
3. Connect your iOS device to the same Wi-Fi.
4. Turn on the "Screen Mirroring" function on your iOS device, select the "MOOKA-XXXX" projector and connect it.
Wireless Screen Mirroring - Android:
1. Select Android Screen Function.
2. Turn on the WLAN on the Android device.
3. Launch the Multi-screen/ Wireless Display / Screen Morring / Smart View Function.
4. Select "MOOKA-XXXX" from the searching result list.
Enjoy the Moment, Enjoy MOOKA.
MOOKA mini projector is lighter and more portable than a native 720P projector, yet it delivers a clearer, brighter, and more colorful image. MOOKA movie projector produces a reasonably clear image in low-light surroundings or even outdoors. MOOKA HD video projector's portable carrying bag and versatile multimedia connectivity allow you to experience convenience and enjoyment anywhere, any time.
In such a fast-paced society, everyone seems to have an endless list of things to do: work, chores, study, etc…
How long has it been since you last took a break?
How long has it been since you and your family sat down to watch a movie or spend time together?
Just Action! Put aside the heavy workload, and spare some time for yourself, and your family. Your sense of happiness will be greatly enhanced.
Share Great Moments, Share MOOKA.