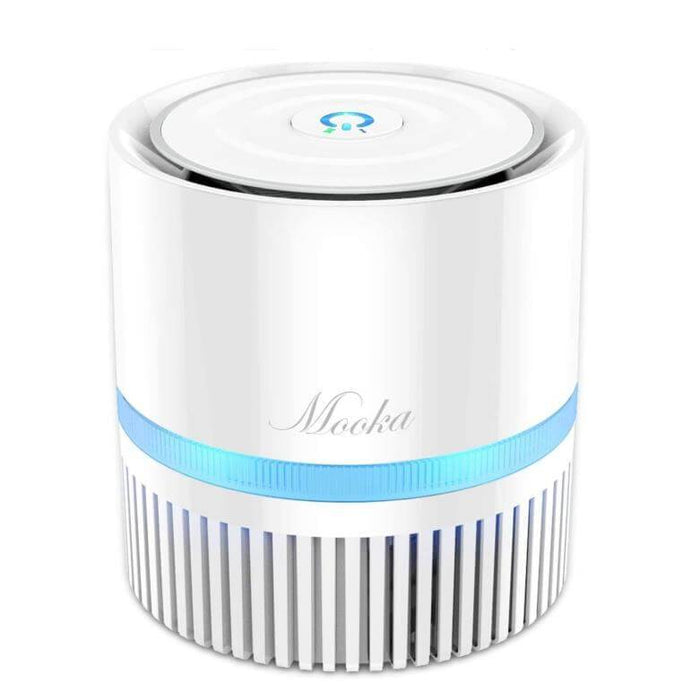 Mooka EPI810 3-in-1 True HEPA Air Purifier for Home
Buy With Confidence
* Free shipping for $39+ order in US.
* Local warehouse delivery.
* 30 Days Free Returns and Exchanges.
* 1-3 year warranty.
* 7*24 customer service.
10% OFF FRIST ORDER | CODE: WELCOME10
Save

9

%
Save

9

%
Original price
$54.99
-
Original price
$54.99
MOOKA True HEPA Air Purifier is Ideal for Your Family. Let's Breathe with Ease!
Smoke from California Wildfires Travels Across US to Chicago.
The unhealthy air quality caused by wildfire smoke makes PM 2.5 skyrocket, which gets into your respiration system. Wildfire smoke can be especially harmful to the elderly, pregnant women, children, and those with chronic diseases like asthma and lung diseases. Unfortunately, the wildfire smoke from California wildfires can reach the East Coast through strong winds called the jet stream.
We are under the threat of polluted air and our health is at stake. Choose Mooka True HEPA air purifier, Choose what you breathe in.
What Mooka EPI810 is Capable of?
Neutralizes Air Dust

Fine preliminary filter and HEPA filter neutralizes air dust and improves air quality in your room.

Eliminates Odors and Smoke

An activated carbon filter eliminates various household odors such as cooking smells, pet odors, and cigarette smoke.

Captures Pet Dander

Preliminary filter airborne pet dander and fur, make you and your pet more comfortable.

Traps Allergens

HEPA filter helps get rid of common allergy triggers including dust, pollen, and other large air particles.
Special Features
Nightlight function

Cleans your air and lights up your path. Great for a nightstand in your children's bedroom or on a side table.

Easy to Operate

One button, two fan speeds. Easy to operate. Set and forget.

Quiet Operation

In a quiet mode, noise is reduced to less than 35dB, which is no louder than a wisp of wind.

Safe for Your Respiratory System

Certified by CARB, EPI810 produces zero Ozone when it works. Ozone can strengthen air-purifying effects but is also harmful to our respiratory system.
Mooka EPI810 Air Purifier

Using Tips and Specifications

Indoor use only.

Do not shake the product violently or drop it from a high place, so as not to damage the product or shorten its lifespan.

Please unplug the power cable when you are not going to use it for a long time.

The night light cannot be turned off. However, you can search "How To Remove the EPI810 Air Purifier LED Lights" on Youtube for the tutorial to remove it by yourself.

Whenever you hear the air purifier making an unusual noise, turn it off and consult our customer support team.

Power Rating: 8W.

Input: 110V / 50Hz

Noise Level: <35dB (Quiet Mode)

Clean Air Delivery Rate: 50m³/h ± 10%

Package Contents: 1*EPI810 air purifier, 1*AC adapter, 1*Filter, 1*User Manual
Ozone-Free Certified by CARB
To ensure your safety, the Mooka EPI810 air purifier has been certified by California Air Resources Board to be 100% Ozone-Free and is available for California residents.
Use MOOKA designed replacement filter to maintain good performance

The filter is recommended to be replaced every 3 to 6 months, depending on how often you use it and how polluted the air is.