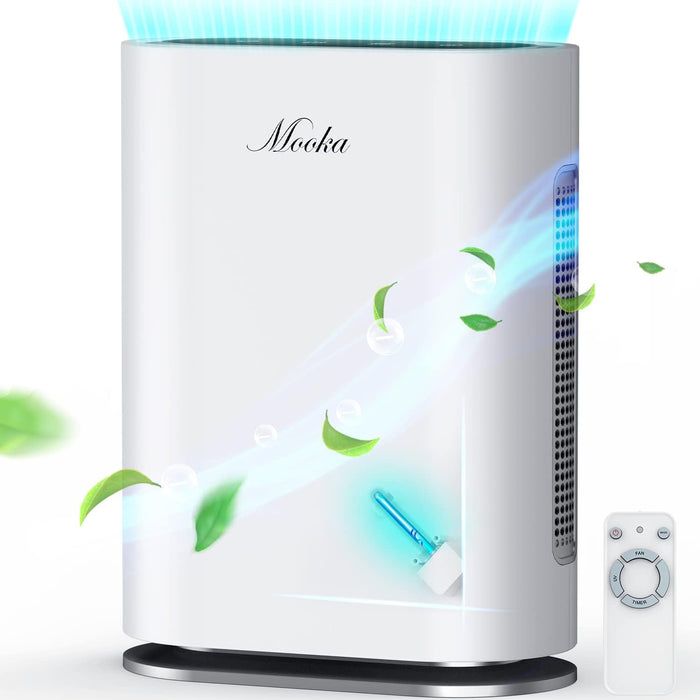 MOOKA True HEPA+ Air Purifier GL-FS32 (2000 SqFt, 6-Point Filtration)
Buy With Confidence
* Free shipping for $39+ order in US.
* Local warehouse delivery.
* 30 Days Free Returns and Exchanges.
* 1-3 year warranty.
* 7*24 customer service.
10% OFF FRIST ORDER | CODE: WELCOME10
Save

10

%
Save

10

%
Original price
$199.99
-
Original price
$199.99
6D Filtration System: Mooka GL-FS32 Air Purifier might just be the most versatile air purifier you have ever seen. Equipped with a pre-filter, a HEPA filter, an activated carbon filter, VOC absorption particles, a UV light, and a negative ion generator, this air purifier can clean the air in your room in 6 different dimensions. All the main health risks hidden in the air will no longer be a threat to your family and pets.

Air Purifier For Large Room: GL-FS32 is capable of completely cleaning a room of 2000 sqft in just 1 hour. It's also great for use in a smaller room. where it will clean the air more times and be more sensitive to air quality changes. No matter in a bedroom, office, living room, or a whole house, it performs to perfection.

Auto Mode & Sensor: This HEPA air purifier is also an intelligent odor eliminator, supported by a built-in smoke and odor sensor. When set at auto mode(see manual), it can adjust the fan speed according to the air quality level in your room. When someone lights a cigarette, or when you are cooking, it will gear up to remove the odor and smoke quicker.

Convenient Features: This air purifier has many other convenient features, such as remote control, a built-in timer(1 to 8 hrs), a night light that can be turned off, preconfigured sleep mode, and a filter replacement reminder.

Quality Assurance: Every unit comes with a 30-day No-hassle refund provided by the seller and 3-Year Warranty and lifetime customer support from Mooka.
Standout Features
Affordable High-Efficiency Filter

Are you still worrying that replacing the filter will make you go bankrupt? The filter(Search with 'B081RJNPFR') for the Mooka GL-FS32 is only USD 29.99 and lasts 6 months on average. And you don't need to purchase different layers separately.

Optimized Airflow

With one big oval intake at the bottom and two on the sides, this air purifier can easily absorb air from all directions and capture hair and pet fur. Notice: keep the unit at least 10 inches away from the nearest wall to ensure better effects.

Built-in Timer

This air purifier has a built-in timer that can be set at 1-8 hrs. If you want to set up an air cleaning session when you are away or want it to stop operating at a specific time, this feature will come in handy.

Sleep Mode

Noise level limited to a nearly inaudible 28dB and indicators turned off, GL-FS32 air purifier ensures clean breath and minimal disturbance through the night, easily the best air purifier for your bedroom.



GL-FS32 Air Purifier by Mooka

Using Tips and Specifications

Replace with Mooka-designated Filters to Maintain High Performance.

Recommended changing the filter every 6 months, depending on how often you use the air purifier.

The filter is Non-Washable but can be cleaner by wiping with a dry cloth or vacuum.

The new filter is wrapped in a plastic bag. Please make sure to remove the plastic bag before use.

After about 2,000 hours of operation, the four segments of the timer indicator will light up to remind you to replace the used filter.

---

Power Rating: 19W(Sleep Mode), 36W/41W/60W (Low/Mid/High)

CADR: 300 m³/hr / 177 CFM

Noise Level: <28dB in sleep mode or low fan speed.

Product Size: 13.8x7.1x18.3 inches

100% Safe for household use, certified by California Air Resources Board.

Safety Note

Indoor use only.

Do not disassemble without supervision from a qualified technician.

If you hear any strange noise from the air purifier when it's on, unplug immediately and consult a specialist from Mooka.

Ozone-free

Certified by CARB